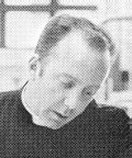 Born to Eternal Life July 17, 2000, age 63 years. Beloved brother of Carl (Debbie) Silvestri. Proud uncle of Julie (Robert) Horn and Scott (Amy) Silvestri. Great-uncle of Luke Silvestri. Also survived by aunts, uncles, cousins, other relatives and many friends. Concelebrated Mass of Christian Burial Fri., July 21 at 11 AM at St. Dominic's Catholic Church, 18255 W. Capitol Dr., Brookfield, The Most Rev. Archbishop Rembert G. Weakland presiding. Visitation Thurs., July 20 from 4-8 PM at St. Dominic's Catholic Church and also on Fri. at the church from 9:30-10:45 AM. Interment Holy Cross. Rev. Silvestri was ordained May 30, 1964, served as a parish priest at St. Sylvester, South Milwaukee, St. Matthias, Milwaukee, and St. Dominic, Brookfield. If desired, IN LIEU OF FLOWERS, memorials to St. Michael's Priest Fund, 3501 S. Lake Dr., Milwaukee 53207.



The Scripture shapes our minds and attitudes.



Note: Vince called me in Utah in June of 2000, and he sounded well despite his health problems. He was living at an assisted living facility on Bluemound Road at the time. He was recovering from his second stroke and eye surgery. Alas, he died less than two months later.

--Alan W.