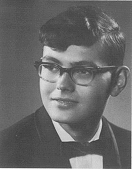 3121 S. Superior St., aged 22 years, fulfilled in Christ on July 15, 1973. Son of the Divine Father, lovingly given to the care of Cornelius and Phyllis Mirr, sharing in the Spirit with his sister, Wendy also shared his earthly brotherhood with Paul and Mark and Peter. Lives in the peace and harmony of all his beloved friends and relatives. To share his happiness, furtherance of his work will be divinely inspired by donations to Associate Membership Program at St. Camilus Monastery or the mentally retarded. In state from 3 to 9 pm at St. Camilus Monastery, 10100 W. Bluemound Road. Parking in rear of Health Center Spiritual; Unity Center at 7:30 p.m. Wednesday Mass of the Resurrection at 10 am. Thursday morning internment Sacred Heart Cemetery. Max Sass and Sons.
Milwaukee Sentinel, July 16, 1973: Gregory J. Mirr, 22 of 3121 S. Superior St., a student at St. Camillus Monastery, Wauwatosa, was killed Sunday when his car collided with another on the Zoo Freeway near Burleigh St. in Wauwatosa, officials said.
Mirr was alone in his car when it apparently went out of control, crossed the median and struck the second car head on, authorities reported. The driver of the other car was James H. Engel, 29, of Madison and his passenger, Miss Barbara J. Thode, 26, were hospitalized at County General Hospital.