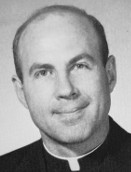 Rev. Becker died April 25, 1994. Father Becker was born on May 17, 1928 in Sheboygan, one of four children of Frank and Cecile Becker. After beginning at St. Francis Minor and Major Seminary, Father completed his studies for the priesthood at the Canisianum in Innsbruck. He was ordained a priest for the Archdiocese of Milwaukee on March 22, 1953 by Most Reverend Paul Rusch of Innsbruck. On August 11, 1953, Father Becker was appointed at St. Francis Minor Seminary where he served for 25 years. During his years at the Seminary, he also pursued graduate studies in Latin at Notre Dame University. On June 13, 1978, He was named Associate Pastor at St. Margaret Mary Parish in Port Washington. On August 1, 1979, Archbishop Rebert Weakland appointed Father Becker Pastor to St. Peter Alcantara Parish in Port Washington. On June 30, 1984, Father was named Pastor to St. Theresa Parish in Kenosha where he served until the time of his sudden death. In addition to his pastoral work, Father was also active in the Knights of Columbus and served as one of the Archbishop's pastor consultants.
Father is survived by his mother, Cecile, of Sheboygan, two brothers, Jerry and Ivan, and a sister Constance (Schnettier).
A concelebrated mass of Christian burial will be offered on Friday, April 29, 1994 at 11:00 am at St. Theresa Church, 2020 91st Street, Kenosha. Father will lie in state at the church on Thursday from 7:00 to 9:00pm and again on Friday from 9:30am until the time of the liturgy. Priest classmates and friends are invited to concelebrate. Please bring and alb and stole. Burial will be at Calvary Cemetary, Sheboygan. Members of the Purgatorial Society will please offer the prescribed Mass for the repose of his soul and include Father Becker's intentions in the General Intercessions at the parish. May he rest in Peace.