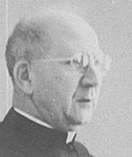 Services will be Tuesday for Father Casmir Hojnacki, 67, who spent most of his career teaching Latin, French and Polish to seminarians. Hojnacki died Friday at Trinity Memorial Hospital whrre he had undergone a gallstone operation.
He was born in Milwaukee and studied at Marquette University, the University of Krakow in Poland and St. Francis Seminary.
Following service as an assistant pastor at St. Adalbert Church, Hojnacki turned to teaching languages at St. Francis Minor Seminary and St. Francis Se Sales College. He retired about three years ago and was living with his sister in Milwaukee.
Survivors include two sisters, Mrs. Pauline Schmidt and Miss Celia Hojnacki, both of Milwaukee and two brothers, Joseph Hojnacki, Milwaukke, and Irvin Howard, Elroy.
Archbishop William E. Cousins will offer mass at 11 am Tuesday at SS Cyril and Methodius Catholic Church, 2427 S. 15th St. Burial will be in St. Adalbert Cemetery.